Every family like peace, happiness and protection and every residential areas and apartments are entirely designed for families. The term simply guarantees safe guarding, peace and happiness to everyone residing in a gated community apartment in Hyderabad.
Gowra Ventures, the renowned builders and realtors of south India promotes the Gated Community culture. It's not so familiar to Indian residents; The Gated Community is obviously not a part of Indian culture, it may be a part of Anglican or western influence in India. Anyway, now a day's lot of residential apartments in India likes to follow such a culture gated community, the residential projects from Gowra Ventures ensures gated community support to residential apartments in Hyderabad.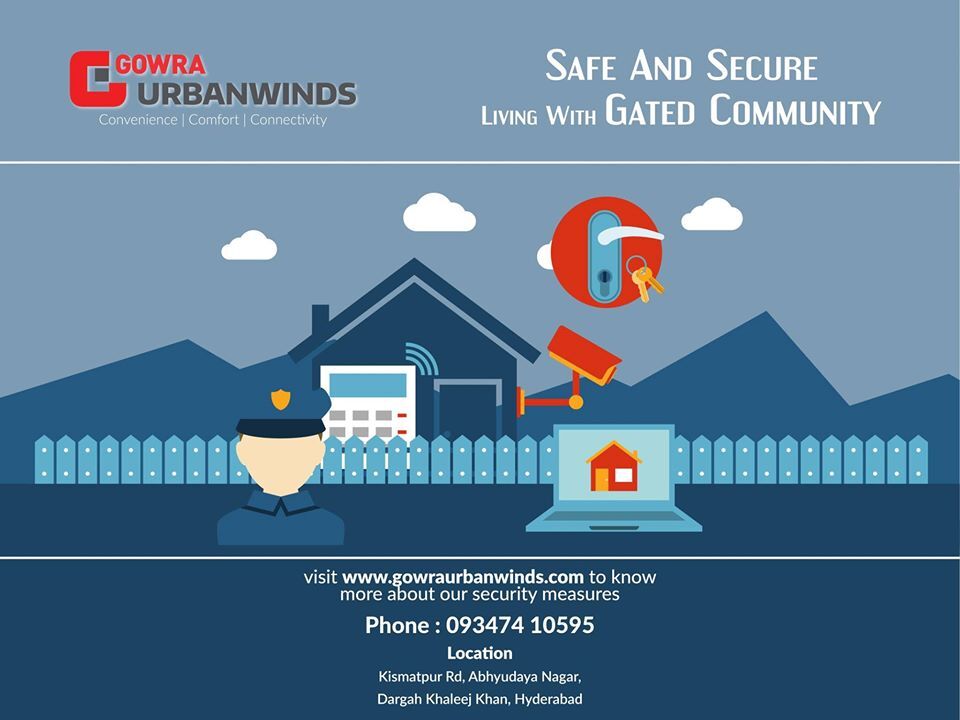 The first concern of gated community is nothing other than safeguarding to families residing in the apartments. The gated community shields trespassing through the compounds of residential apartments. The upcoming gated community apartment from Gowra Ventures are something special. Gated Community is also known as residential community; it has its own policy and directions.
How is a Gated Community Beneficial?
Gated communities offer many great benefits that will appeal to families, couples, and individuals alike. These locations can also be classified into three general types, including elite communities, lifestyle communities, and security zone communities, all of which cater to the needs of different kinds of investors. Elite communities, for instance, are a popular option for wealthy people and individuals who desire high-end living. Lifestyle communities, on the other hand, are ideal for retirees and even families who enjoy property activities, recreation, and lots of social events. Security zone communities are perfect for families who want a secure neighborhood to raise children.
Indisputably tight security is among the most sought after selling point of Gowra Urbanwinds. While the level of security services still vary depending on the type of neighborhood you choose, people who invest in properties within gated communities in Hyderabad are usually attracted by security benefits like strict guest sign-in and sign-out rules and procedures, security cameras, and security personnel that are constantly stationed at the community gates.
Next to security, people who decide to move into gated communities also look forward to lifestyle benefits like access to luxurious amenities like recreational facilities, private ball courts, golf courses, and even lifestyle clubs and planned events, such as monthly get togethers for book clubs and golf scrambles. Gated communities are also sought after for their huge clubhouses, which are available for use by residents who want to entertain guests in the community's shared space. Having access to these kinds of facilities have obvious benefits, like saving money from having to rent ballrooms and halls for hosting parties.
Aesthetics is also a major appeal for gated communities. Not only do our gated community apartment in Kismatpur offer excellent places to live in, they also offer higher resale values, which make them an even more lucrative investment, should you decide to resell and reinvest your money elsewhere. One great thing about gated communities is they are run by neighborhood associations that pass and enact bylaws keeping property owners, thus your neighbors, from turning their own properties into an eyesore. These standards help keep the community beautiful while preserving the value of each of the properties.
Why Gowra Urbanwinds ?
Gowra Urbanwinds are gated community apartments and it never allows much freedom to all who enters the apartments' compound. The residential projects of Gowra Ventures have to special mention; it maintains strict control over pedestrians, bicycles and automobiles. The apartment projects from Gowra Ventures maintain gated community advantages. There are so many residential apartments from Gowra Ventures very effectives pursues the gated community methods, the gated community furnishes gatekeeper services and many gated communities provide some other facilities according to the demographic composition, geographical location etc.
The best gated community apartments in Hyderabad from Gowra Ventures ensures 100% guaranteed safety. The Gowra Ventures apartments have everything that you would prefer from a best apartment providing builder. It offers the gated community facility especially with a view to guaranteed safe guarding. Besides safety the gated community offers other benefits to the residents. The gated community never allows illegal entries. The avoidance of unnecessary arrivals of strangers is a wise matter. The gated community apartment from Gowra Ventures never makes you disappointed. It ensures safety and at the same time the residents gets peace and obviously a feel of protection.
Frequently Asked Questions:

What area does this gated community apartment cover?
This project covers an area of 1.37 acres. It is also 1.5 kilometers from the Outer Ring Road. Gowra Urbanwinds is located 2.45 kilometres from the nearest hospital and 2.18 kilometres from the local high school.
What are some of the amenities that one will find here?
There is an outdoor area for BBQ, terrace swimming pool, sports court, gymnasium and ample parking place available. These are just a few of the amenities which Gowra Urbanwinds provides.
How many total bedrooms are there in this apartment?
There are a total of 272 bedrooms, 103 luxury flats, and 18 designs for best suited living in a floor. There are 3 BHK and 4 BHK Apartments available.